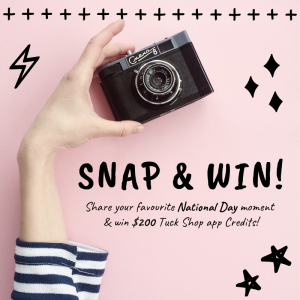 Snap & Win this National Day! 
As we celebrate Singapore's 54th birthday, we invite you to share with us your favourite National Day moment!
It could be when you watched the National Day Parade for the first time, or the fireworks you caught at East Coast Park, or your school's National Day celebration. Share your photo and story with us and stand to win $200 Tuck Shop app credits!
How to Take Part? 
Snap a photo of your favourite National Day moment
Send your photo in to contest@timbregroup.asia by 2359hrs on 25th August 2019. Please include your name, contact number, and a short caption
Only entires sent to the email address accepted
8 shortlisted photos will be printed out and displayed at Yishun Park Hawker Centre Event Plaza for public voting on 31st August – 1st September
The 1st, 2nd, and 3rd place winners will be announced on Yishun Park Hawker Centre FB page on 2nd September, 1500hrs. Winners will be contacted by phone.
Prizes: $200, $150, and $100 Tuck Shop app credits
Terms & Conditions for Yishun Park Hawker Centre National Day Photo Contest
You may submit multiple entries to the Contest but can only win one prize.
You agree to submit only original photographs which (a) had not previously been published, exhibited or submitted to another contest that is currently underway, (b) had not previously won any contest, and (c) is not inaccurate, misleading, libellous, defamatory, threatening, pornographic, obscene, indecent, lewd, abusive, illegal, political, racist, religious, blasphemous, false, an infringement of any intellectual property rights of a third party, or would otherwise violate or encourage the violation of any law (including the Official Secrets Act (Cap.213) and the Personal Data Protection Act 2012) or the proprietary or other rights of any third party.
You agree to grant Timbre + Hawker Pte Ltd (the Organiser) to right to to use (including without limitation, to store, reproduce, modify, distribute, publish in any format, display, communicate, transmit, broadcast, podcast, webcast, or broadcast) the materials submitted by you.
You agree to indemnify and hold the Organiser and their subsidiaries, affiliates, officers, agents, co-branders or other partners, and employees, harmless from all claims, demands, actions, proceedings, liabilities (including statutory liability and liability to third parties), penalties, and costs (including without limitation, legal costs on a full indemnity basis), awards, losses and/or expenses, due to or arising out of the materials submitted by you.
any and all personal data submitted may be collected, used and/or disclosed to the Organiser for various purposes, including to communicate with you for purposes related to the Contest.
The Organiser's decision at all stages of the Contest is final and no correspondence will be entertained.
The Organiser shall not be liable for any loss or damage in connection with the Contest, or any prize, except any liability that cannot be excluded by law. Except to the extent that they may not be excluded by law, no representations, warranties, terms or conditions that are not expressly stated in these terms and conditions apply to this competition or the prizes and all implied warranties (including of satisfactory quality, merchantability or fitness for a particular purpose of any prize) are excluded. Prizes are not transferable or exchangeable and non-cash prizes cannot be exchanged for cash.